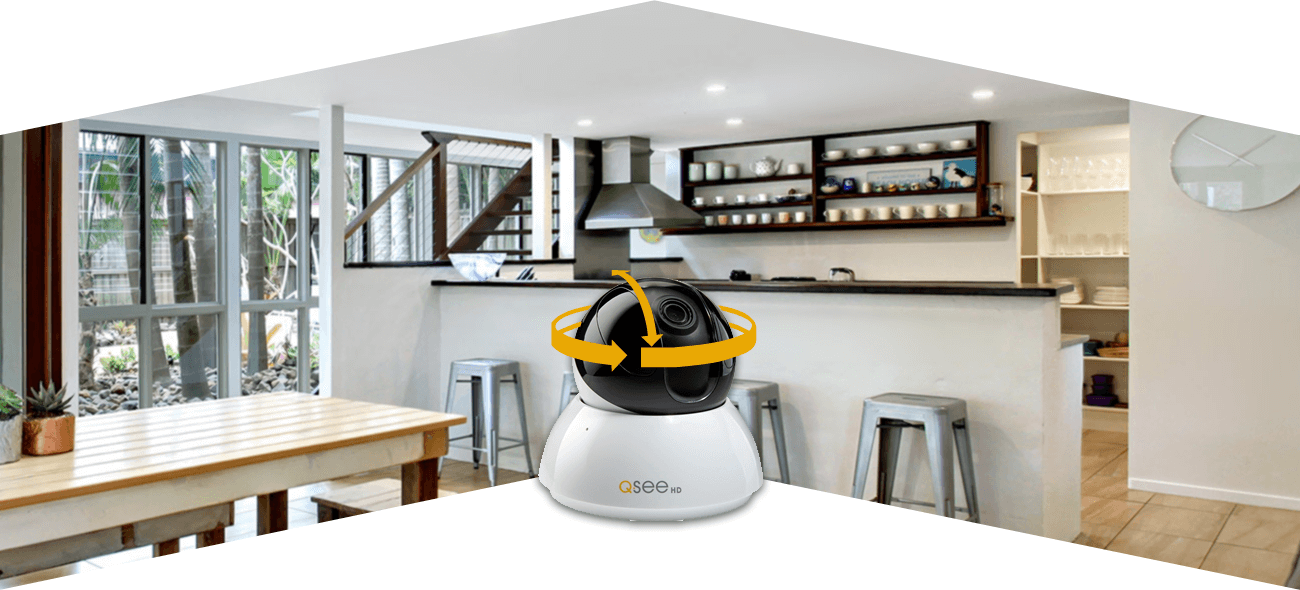 Q-See QCW4MP1PT-AU : Pan/Tilt/D-Zoom Indoor Camera : 4MP 2688×1520 : 50fps : H.265 & H.264 : 3.6mm fixed lens : 1/3″ Image Sensor : DWDR : 355° Pan : 90° Lift Tilt : 16x Digital Zoom : Up to 15m night vision : 94° Field Of View : Auto-Tracking : QCPlus App for up to 4 QCW cameras
Indoor cameras keep an overview of everything and everyone all the time.  They provide real time indoor security for your home serving as an extra set of eyes when you are away or on children in other rooms, they alert you to unexpected night time motion and are a remote voice intercom system.  All with a simple link to your home WiFi network onward to your mobile phone or tablet device.
In addition to keeping tabs on the family and in home goings on, advanced motion alerts and active tracking will alert you to unexpected activity when you are away from the home and follow movement.  Add a small Micro-SD memory card for video recording and playback after the fact from the device itself.  No need for a monthly Cloud subscription service although one is available if you prefer.
Available from
https://www.homehardware.com.au/qsee-inhome-security-camera/
https://www.mitre10.com.au/q-see-in-home-security-camera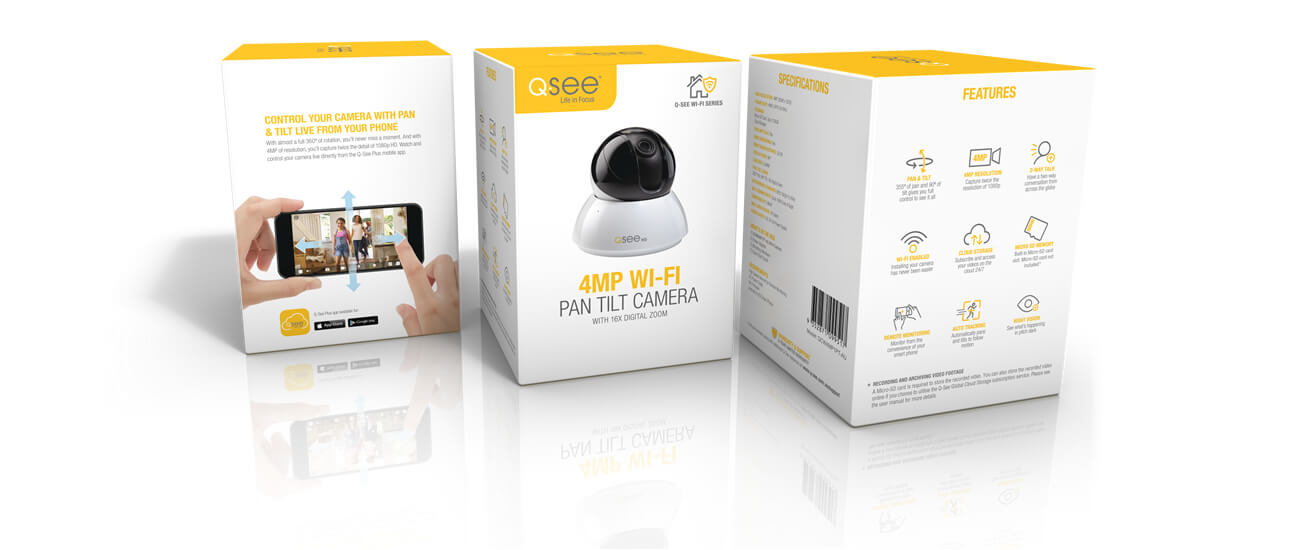 Smart Home Ready
"OK Google – show me the lounge room…"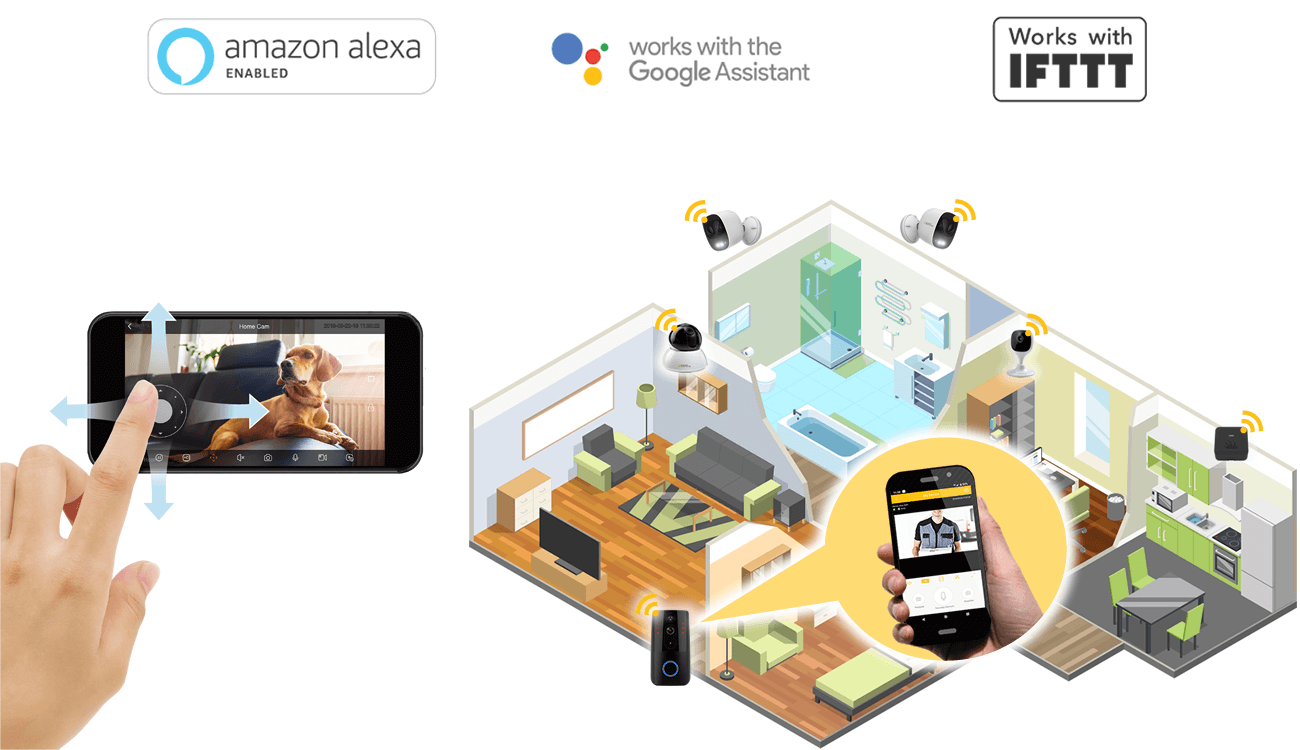 Advanced H.265 Compression

Activity Auto-tracking

Specifications
| | |
| --- | --- |
| Model | QCW4MP1PT-AU |
| Title | 4MP Wi-fi pan tile camera with 16x digital zoom |
| Image Sensor |   |
|     Image Sensor Size | 1/3" 4 Megapixel |
|     Image Sensor Type | CMOS |
| Video |   |
|     Megapixels (Digital) | 4MP |
|     Effective Pixels | 4MP (2688 x 1520) / 3MP (2304 x 1296) / 2MP (1920 x 1080) / 720P (1280 x 720) |
|     Framerate Per Second | 50 |
|     Video Compression | H.265/H.264 |
|     Interface Protocol | ONVIF |
|     Backlight Compensation | Yes |
|     Wide Dynamic Range | DWDR |
| PTZ |   |
|     Horizontal Rotation | 355° |
|     Vertical Tilt | 90° |
|     Zoom | 16X Digital Zoom |
| Camera |   |
|     Lens Size | 3.6mm Fixed Lens |
|     Field of View | 94° |
|     IR Cut Filter | Yes |
|     IR Distance | Up to 15m |
|     Min. Lux Illumination | 0.9 Lux/F2.2 (Color), 0 Lux. F2.2 (IR On) |
|     Storage | Micro SD Card, Max 128GB (SD Card Not included) or Q-See cloud subscription service |
| Audio |   |
|     Two-way Talk | Yes |
|     Audio Compression | G.711A; G.71Mu; AAC |
|     Audio Microphone | Yes |
|     Speaker | Yes |
| Remote Monitoring |   |
|     Use as Standalone | Yes |
|     Compatible Software | Q-see Plus |
|     Compatible Mobile Devices | Android, iPhone, iPad |
|     Max. User Access | 20 Users |
| Connectivity |   |
|     Connector Types | RJ45 PoE ONVIF 2.3 Profile S |
|     Other Connections | 2.1mm Power |
|     Wireless | Wi-Fi 802.11 b/ g/ n 2.4 Ghz |
|     Wireless Range | Up to 48m Line of Sight |
| Power |   |
|     Power Supply | 5V 2A |
|     Power Consumption | <8W |
| Physical attributes |   |
|     Waterproof | No |
|     Body Construction | Plastic |
|     Mounting Hardware | Screws |
|     Weight | 0.24KG |
|     Dimension w/ Bracket | 3.7" x 3.7" x 3.7" |
|     Operating Temperature | -10 ~ 45 ℃ |
Links
Click to download full manual (Note large file)
Unboxing