Q-See QT8732 NVR : 32 Channel : 8MP 3840×2160 : 256Mbps : 2x 10/100/1000 : 8x SATA : H.265 : 1x HDMI-4K-Out, 1x HDMI-Out : VGA-Out : Alarm 8x In 4x out : 2x eSATA : 2RU
This is the newest generation, largest capacity, non server Network Video Recorder from Q-See.  It is feature packed with the latest technology for Video Surveillance perfectly suited for Australian business use.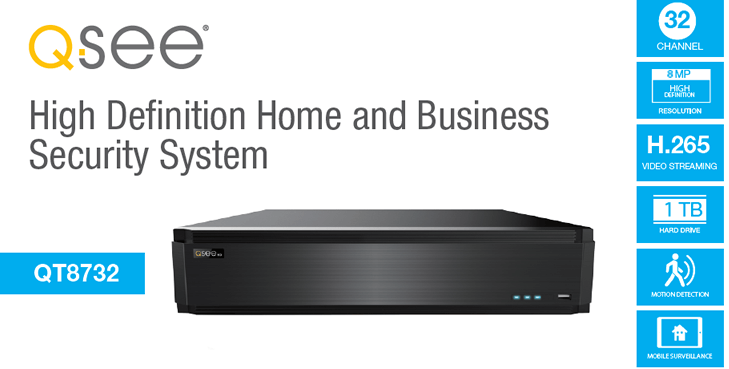 With support for up to 32x 8 Megapixel cameras the Q-See QT8732 is the ideal NVR for deployment into commercial and industrial locations with 16 to 32 camera requirements.  As part of the Q-See range this recorder can be controlled by a central Camera Management Server (CMS) for robust, reliable remote video management and monitoring.
Key Features:
Q-See QT8732
32 Channel 8MP Resolution at 3840×2160 per camera
Support for both H.264 and the latest H.265 compression CODECs for high quality video at maximum compression
ONVIF 2.3 conformance
4K output for true ultra high def viewing.  HDMI x2 (1x of 4Kx2K, 2x of 1920×1080 & 1280×1024) VGA x1 (1920×1080 & 1280×1024)
16 channel simultaneous playback
256Mbps total network access bandwidth processing capacity
8MP/ 5MP / 4MP / 3MP / 1080P / 960P / 720P @ 25 and 30fps
Dual stream recording with manual, timer, motion and sensor based triggering
8 channel local alarm input and 4 channel output
2x 10/100/1000 RJ45 Ethernet LAN port in dual or redundant mode
TCP/IP, PPPoE, DHCP, DNS, DDNS, uPnP, NTP and SMTP support
Up to 8x SATA 3.5″ drives
Optional eSATAx2 expansion ports
2x USB 2.0 and 1x USB 3.0 port
Remote control

≤15

W power consumption + hard drive power
2RU
The QT8732 is designed for deployments of many cameras typically distributed over large areas.  As such camera power and Ethernet switching is typically provided by dedicated and distributed PoE access switches, PoE range extenders and PoE splitters.  Ethernet and IP design is an important consideration and a free consultation is recommended for the design, installation and configuration of switches.  Q-See access switches are available in 8, 16 and 24 ports to aggregate cameras and back haul to the QT8732.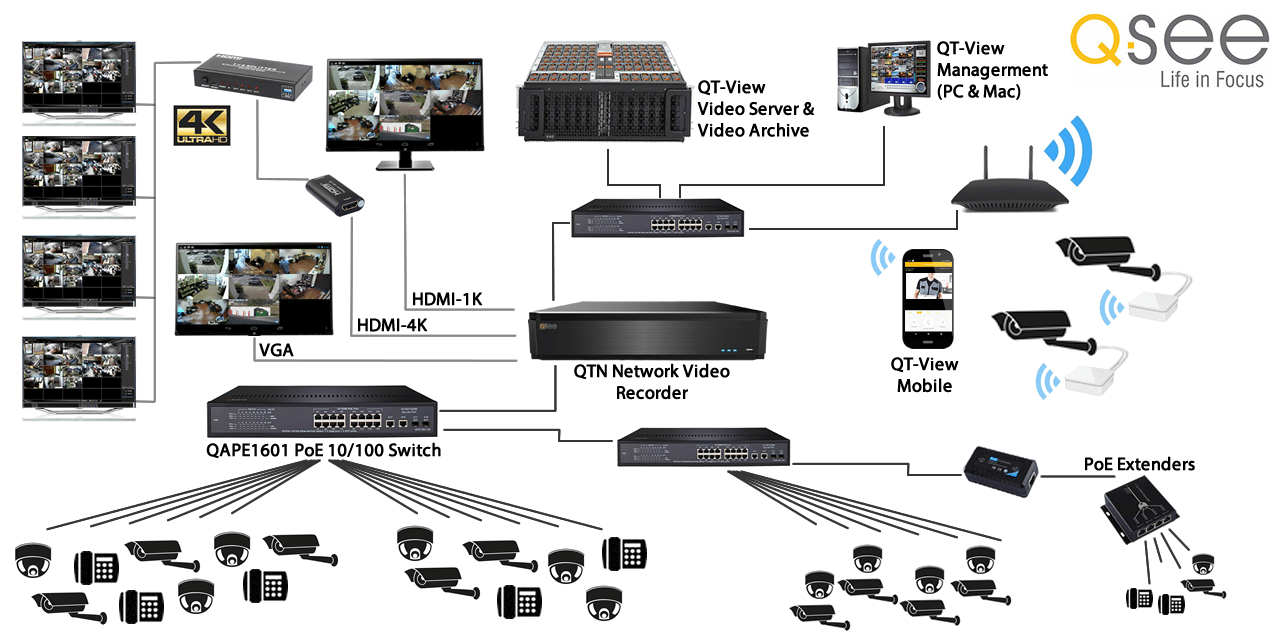 H.265 Compression
The QT8732 support up to 8 SATA storage drives up to 10TB capacity which when combined with the newest H.265 compression codec ensures this unit is more than able to record and store the highest quality video feeds from 2 to 8MP cameras.  Backup can be added via optional eSATA drives and eSATA drive arrays in addition to the standard USB 3.0 port.
The H.265 new generation video codec requires half the storage of the older H.264 compression .
HDMI-4K 8MP Ultra High Definition Input and Output
The QT8732 NVR supports up to 256Mbps of video stream aggregate bandwidth for camera streams in full 25fps 8MP 3840×2160 resolution.  This input can be fully displayed on any UHD 4K display, TV or monitor.
Output is via 1 HDMI-4Kx2K port, 1 HDMI-1K port and a standard VGA port.  These can be used in a variety of ways to distribute the displays in various modes across multiple display devices.  HDMI extenders and splitters can be used.
Q-See's QT View for IPHONE, IPAD and ANDROID SMARTPHONES puts the power of peace-of-mind literally at your fingertips.  Designed to work with our QT-series security DVR and NVRs, QT-View allows you to check in on your property, business or loved ones anywhere, at any time. Receive instant e-mail alerts and see what's going on with the swipe of a finger.
View live feeds from up to four cameras simultaneously. QT View takes full advantage of touch-screen technology to allow you to add or change video feeds, play back video or even control a pan-tilt-zoom camera . You can even take still images and save them on your phone or send them as e-mail attachments.
Smart Video Analytics
The QT878/816/8732/8764/90128 all support the new range of Video Analytic Cameras from Q-See such as the QTN8086B.
Detect if the stable part of a scene permanently changes with adjustable time sensitivities
Alert on camera blurr detection through fogging, deliberate smearing or otherwise.
Alert on motion within a multipoint area to detect movement through a window or an area that is out of bounds etc.
Provides alerts when objects (usually people) cross a line in either one direction, the other or both.
Detect when an object has been added or removed from a scene. Great for lost item recovery.
Area intrusion detection function for alerts when part of a specific scene region is used as an entry or exit point. Ideal for FireDoor alerts etc.
Detect if a camera is tampered through changed field of view, with masking, blocking, physical damage etc
Specifications
Model
System
Compression
Main Processing Chip
OS
Video
Network Access Bandwidth
Input Resolution
8MP、5MP、4MP、3MP、1080P、960P、720P real time
8MP、5MP、4MP、3MP、1080P、960P、720P real time
Network Access
Output
HDMI-4K: 3840×2160/1920×1080/1280×1024
HDMI: 1920×1080/1280×1024
VGA×1:1920×1080/1280×1024
HDMI-4K: 3840×2160/1920×1080/1280×1024
HDMI: 1920×1080/1280×1024
VGA×1:1920×1080/1280×1024
Audio
Input
2-way Audio
Local Output
Record
Resolution

8MP、5MP、4MP、3MP、1080P、960P、720P

8MP、5MP、4MP、3MP、1080P、960P、720P

Frame Rate
Bite Stream
Image Quality
Playback
Simultaneous Playback
Network
Interface

RJ45 10/100/1000 Mbps × 2

RJ45 10/100/1000 Mbps × 2

Network Protocol
TCP/IP、PPPoE、DHCP、DNS、DDNS、UPnP、NTP、SMTP、ONVIF、GB28181
TCP/IP、PPPoE、DHCP、DNS、DDNS、UPnP、NTP、SMTP、ONVIF、GB28181
Storage
HDD
Max Capacity for 1 single HDD
Backup
USB Backup
eSata Backup
Interface
Alarm In
Alarm Output
Communication

RS485×2, connect to PTZ and keyboard

RS485×2, connect to PTZ and keyboard

Remote
USB
USB2.0×2( one in the front panel and the other in the rear panel ), USB 3.0×1( rear panel )
USB2.0×2( one in the front panel and the other in the rear panel ), USB3.0×1( rear panel )
Others
Case
Dimensions(mm )
Power Supply
Consumption
Work Environment

-10 ~ 50 ℃,10% ~ 90% humidity

-10 ~ 50 ℃,10% ~ 90% humidity