Q-See QTN8053D Intelligent Video Analytics Camera : 1/2.7″ 5MP CMOS sensor : 2592×1944 : 2.8mm Lens : DWDR : BLC : HLC : 2D/3D DNR : Defog : 10-20M IR Night Vision : H.264 : H.265 : Triple Stream : IP66 & IK10 : Smart Video Analytics
With a vandal proof high megapixel Q-See 5MP QTN8053D IP dome you get the new technical leader for standard commercial, industrial and enterprise deployments. This cameras reliability, quality, clarity, ease of installation, and neat design is second to none and includes support for the latest H.265 compression standard and importantly new Intelligent Video Analytics.
Useful for essentially all short and medium range applications this camera and its earlier siblings has been deployed by the millions world over. With a very wide 93.4° angle of view it is useful for covering offices, entrance halls, and other small areas where reflection from more powerful IR cameras can interfere with the night vision. It offers extremely high definition images and can be relied upon like no other camera for its price point.
This new breed of camera from Q-See now includes Smart Analysis features when matched with the new 8MP ready NVRs for exception analysis, object removal detection, line crossing detection and intrusion detection.  It has a 5.0 MP 8139+OV4689 OV sensor, records in the tall 5MP 4:3 ratio or 4MP 16:9 format and has 3D DNR, digital WDR and ROI coding.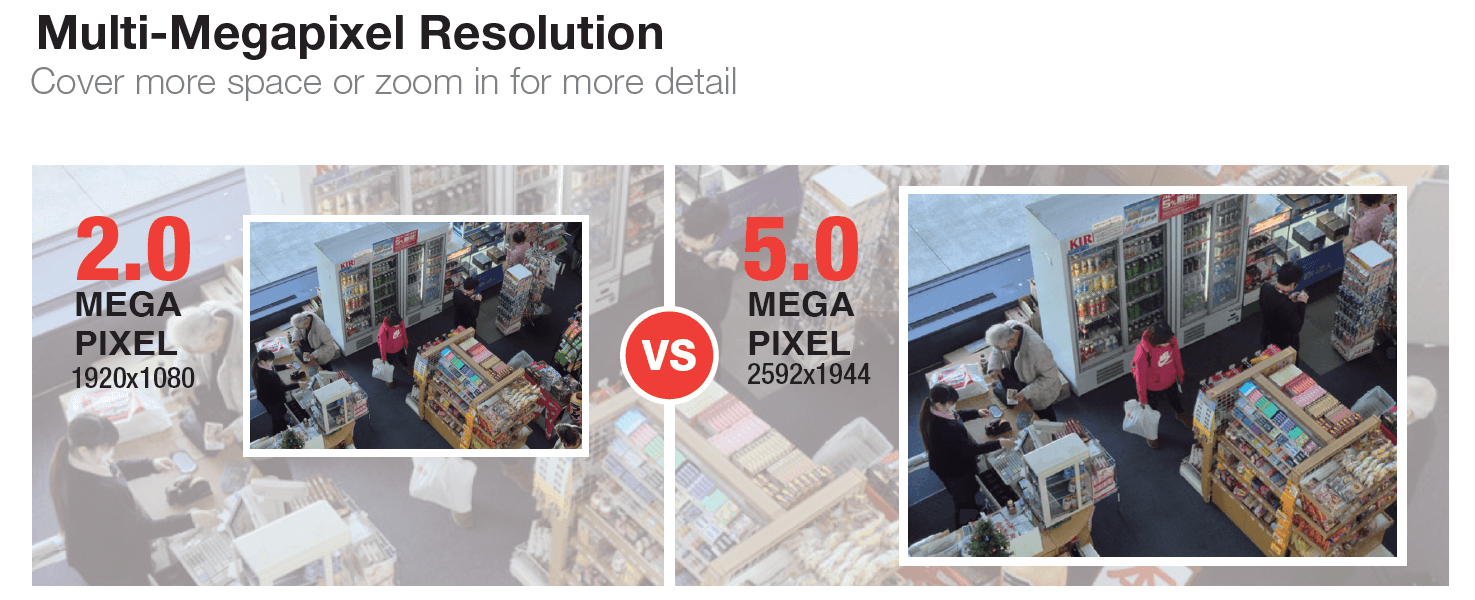 Intelligent Video Analytics
Detect if the stable part of a scene permanently changes with adjustable time sensitivities
Alert on camera blurr detection through fogging, deliberate smearing or otherwise.
Alert on motion within a multipoint area to detect movement through a window or an area that is out of bounds etc.
Provides alerts when objects (usually people) cross a line in either one direction, the other or both.
Detect when an object has been added or removed from a scene. Great for lost item recovery.
Area intrusion detection function for alerts when part of a specific scene region is used as an entry or exit point. Ideal for FireDoor alerts etc.
Detect if a camera is tampered through changed field of view, with masking, blocking, physical damage etc
Smooth 20 fps @5MP and 30 fps @ 4MP
Advanced compression
One concern with the very large image capture cameras is their increased network bandwidth and storage requirements. 4K is essentially 400% more dots than standard 1080P High Definition cameras. Therefore bandwidth, processing and storage requirements are likewise 400% larger. To combat this problem the QTN8053D supports the high compression H.265 and H.265+ CODECs. This reduces bandwidth and storage needs by 50% when compared to H.264.

Digital Wide Dynamic Range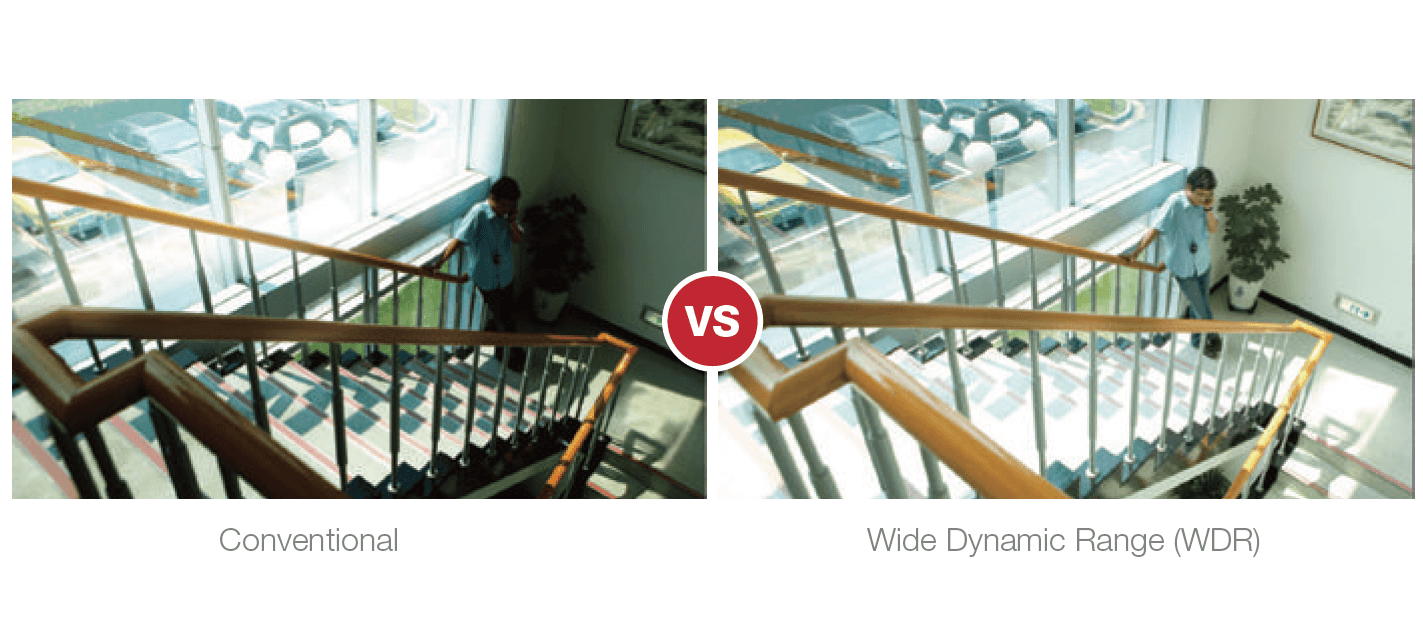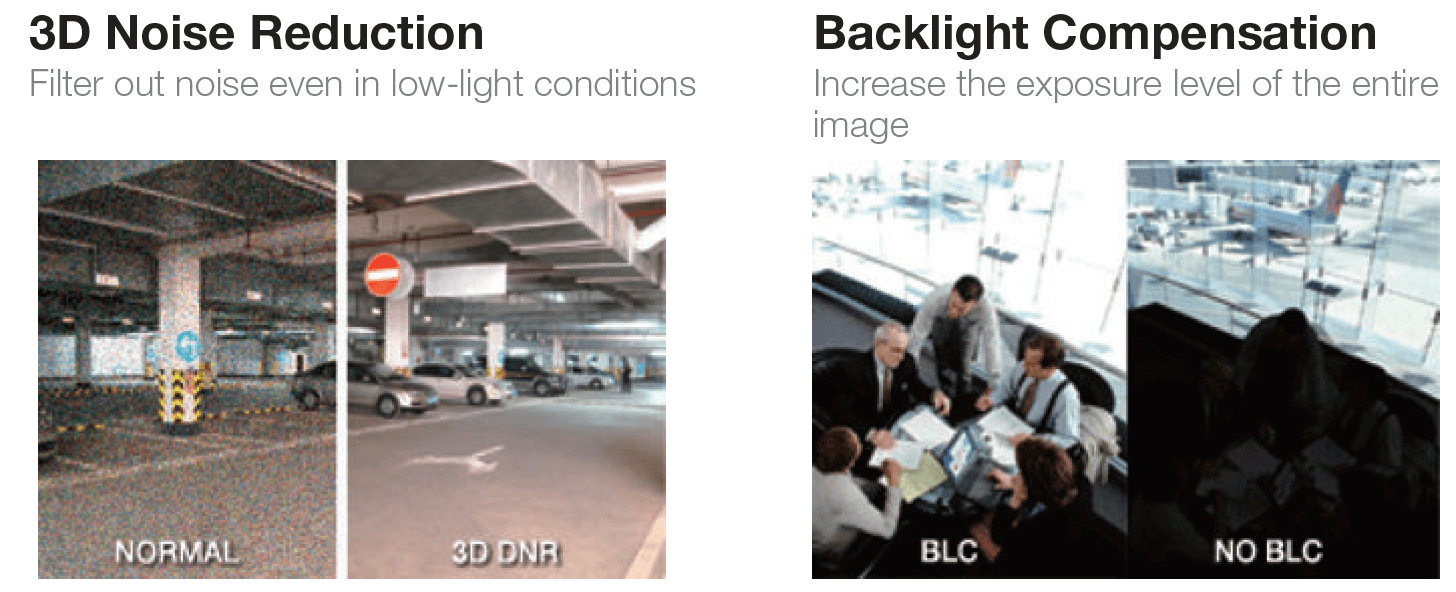 Smart NVRs add smart apps


Plug and Play connections and advanced mobile apps
Match the Q-See QTN8053D with the next generation Network Video Recorders form Q-See like the QT878, QT816 and QT8732/64 for advanced video smart analysis, remote alerts, storage and plug and play setup.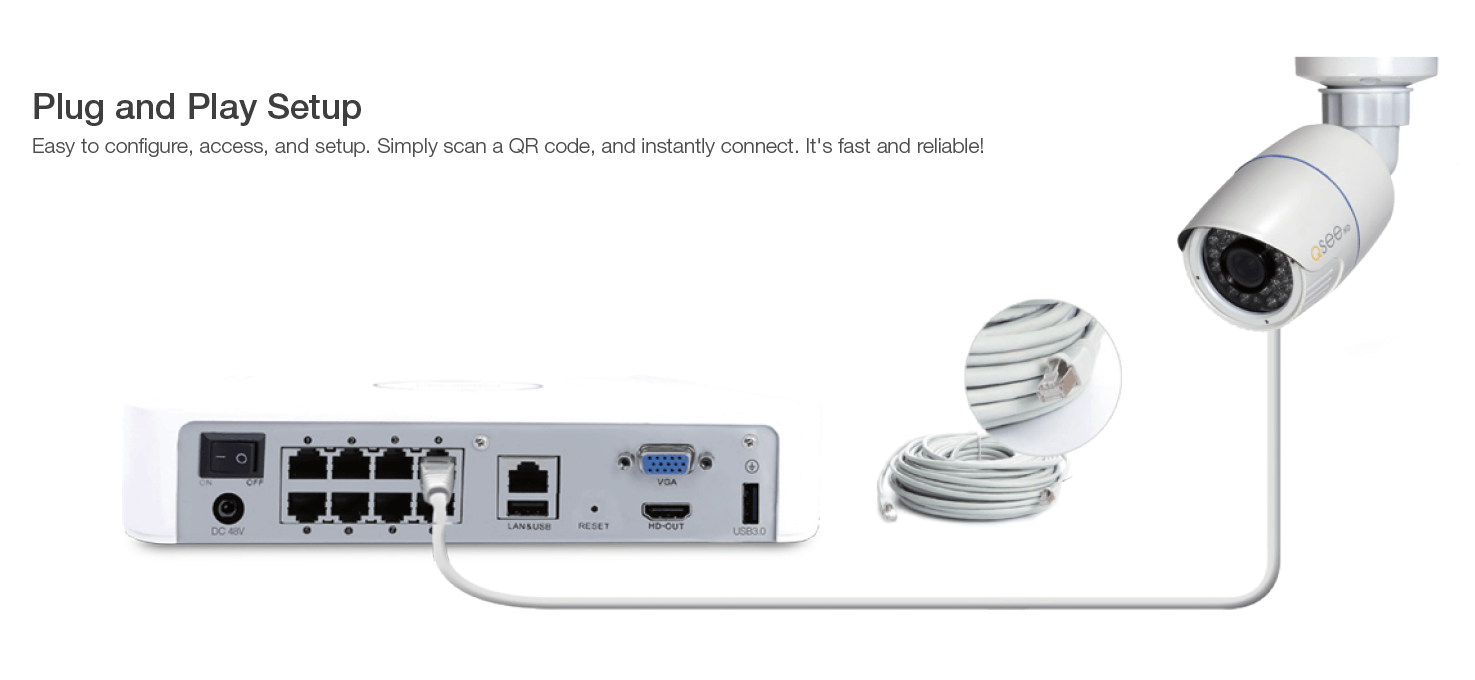 Specifications
Model

QTN8053D
Image Sensor
1 / 2.7 "CMOS
Image Size
2592×1944
Electronic Shutter
1 / 25 s ~ 1 / 100000 s
Iris Type
Fixed Iris
Min. Illumination
0.0236 lux @F2.0, AGC ON; 0 lux with IR
0.0085 lux @F1.2, AGC ON; 0 lux with IR
Lens
2.8 mm @F1.85, horizontal field of view: 93.4°
Lens Mount
M12
Wide Dynamic Range
Digital WDR
BLC
Yes
HLC
Yes
Defogging
Yes
Digital NR
3D DNR
Angle Adjustment
Pan: 0°~360° / Tilt: 0°~90° / Rotation: 0°~360°

Image

Video Compression
H.265+ / H.265 / H.264+ / H.264 / MJPEG
H.265 Compression Standards
Main Profile@Leve4.1 High Tier
Resolution
5MP ( 2592×1944 ) / 4MP (2560×1440) / 1080P ( 1920×1080 ) / 720P ( 1280×720 ) / D1 & CIF (480×240)
Main Stream 60Hz
5MP ( 1 ~ 20fps ) / 4MP & 1080P ( 1 ~ 30fps ) / 720P ( 1 ~ 30fps )
Main Stream 50Hz
5MP ( 1 ~ 20fps ) / 4MP & 1080P ( 1 ~ 25fps ) / 720P ( 1 ~ 25fps )
Sub Stream 60Hz
60Hz : 720P/D1/CIF (1~30fps)
Sub Stream 50Hz
50Hz : 720P/D1/CIF (1~25fps)
Third Stream 60Hz
60Hz : D1/CIF/480×240 (1~30fps)
Third Stream 50Hz
50Hz : D1/CIF/480×240 (1~25fps)
Bit Rate
128 Kbps ~ 10 Mbps
Bit Rate
Type VBR / CBR
Quality
Five levels under VBR; Freely adjustable under CBR
Image Settings
ROI / Saturation / Brightness / Chroma / Contrast / Wide Dynamic / Sharpen / NR /etc. Adjustable through client software or web browser
Audio Compression
No
ROI
Each ROI to be configured separately

Interfaces

Network
RJ45 10M / 100M self-adaption
Audio
No
Video
No separate CVBS output
DC 12V direct power
Yes (required if no switch PoE available)

Functions

Remote Monitoring
IE browsing /CMS remote control
IE browsing / CMS remote control
Support simultaneous monitoring for up to 6 users; Support multi-stream real time transmission
Network Protocols
UDP, IPv4, IPv6, DHCP, NTP, RTSP, PPPoE, DDNS, SMTP, FTP, SNMP, 802.1x, UPnP, HTTPs, QoS
Interface Protocol
ONVIF, GB-T/28181-2011
Storage
Network remote storage to other QT-View NVRs/VSSs
Smart Alarm
Motion alarm
Smart Analysis
Object detection / tripwire detection / intrusion detection / scene exception / abnormal video detection
PoE
Yes
IR Distance
10 ~ 20 m
Ingress Protection
IP66
Impact-Rating
IK10 (Impact Protection Rating) (Vandal Resistance Rating)

Others

Power Supply
DC12V / PoE
Power Consumption
< 6W
IR Consumption ON
< 6.5W
Operating Environment
– 30°C ~ 60°C /10 % ~ 95 % relative humidity
Dimensions
(mm) Φ116.7×90
Weight (net)
600g
Installation
Ceiling or Wall mounting (pendent mount accessory available)