Q-See QVP437PZ IP AI-PTZ Laser Camera : 4MP 1/1.8″ CMOS sensor : 8″ Dome : 37X 500m 5.6-208mm OptZoom 59.8°-2° : 16x DigZoom : 500M Laser Night Distance : 2560×1440 : 120dBWDR/HLC/BLC/OpticalDeFog/3DDNR : ANR : SD Card : IP67/IK10/TVS6KV : Smart Analytics : Intelligent Tracking : Smart Trigger Tracking : VERY HIGH SPEED 180°/s

The Q-See QVP437PZ AI-PTZ is one of the most advanced sub $10,000 cameras available to the Australian Market.  Its list of advanced features is extensive and all inclusive meeting all requirements for integrated border broad area surveillance with a laser infra-red illuminator for painting object up to 500m away.  Clearly recognize human faces in complete darkness at 400m!

Features
Artificial Intelligence
Integrated with 2.0 Tops CNN deep-learning Engine and powerful CV and video DSP, this products can switch among various scenarios for face recognition(FR), license plate recognition(LPR), (human and vehicle) mixed lanes detection mode.
Up to 30 targets can be detected simultaneously.
Support human/car recognition and real-time auto zoom tracing.
Superior Image Quality
The product adopts high MTF 37x zoom lens and 1/1.8″ back-illuminated Near-IR enhanced image sensor with a 3rd generation of image signal processor.  These provide for greatly enhanced image quality, far better than the enhanced Image++ found on the newest Q-See cameras.
Vivid color image output without switching to W/B mode
Most street lamp and car lamp smear is suppressed via the QVP437PZ high dynamic range.
Advanced Optical Defogging 37x Zoom Lens
Generally visible light passes through raindrops, haze and fog only over a short range.  To assist the QVP437PZ has a defogging lens filter so the camera can switch to 900nm-1150nm mid-wave infrared imaging on a foggy/rainy day.  MWIR light from the target has more chance to pass through the raindrops, fog and haze in the air allowing the QVP437PZ to record twice as far as normal cameras.
Very Large Format 1/1.8″ 4MP CMOS allows for a very wide range of field of view.  Combined with the 5.6-208mm motorised zoom focal length the view can be adjusted from 59° down to only 2°
Image++ enhancement with 120dB WDR, 3D DNR,HLC,smart supplementary light Min.Illumination:Color: 0.005 lux (F1.5, AGC ON);
Powerful 37 x optical zoom; 16x digital zoom Max.2560×1440@60fps, H.265 coding
B/W:0.001 lux(F1.5, AGC ON); 0 lux with laser.
500 m VCSEL IR laser distance
2.0 Tops CNN, IVE and video DSP People/vehicles recognition and tracking
Four scenario modes: Perimeter, FR, LPR, mixture lane
AC24V or Hi-PoE (60W)
IK10, IP67, -50°C~+65°C
Sync-Zoomed VCSEL Laser Illuminator
The QVP437PZ has a sync-optical zoomed VCSEL (vertical-cavity-surface-emitting) laser illuminator.  The VCSEL has more efficient and longer life than traditional laser light source.
The laser lens zooms synchronously with the image lens so the IR(W/B) image effect is more even with no break in the camera's zoom action.
Even on a moonless very low lux night the camera can still distinguish a human face at 400m (LP 500m) distance.
H.265 Encoding
The H.265 (ITU-T VCEG) video compression standard offers double the data compression ratio at the same level of video quality with substantially improved video quality at the same bit rate when compared to older video compression technologies.
Smart Thermal Management 1.0
The camera has a built-in temperature sensor, high-efficient turbofan and a high power heater.  The real-time temperature detection and control algorithm allow the QVP to work well in a wide temperature range from -50°C to 65°C(-58°F~149°F).
It also supports cold start temperature above -40°C(-40°F) so it is suitable for Australian alpine regions.
Working Environment and Interoperability
Subjected to rigorous dust and water immersion tests and certified to the IP67 Ingress Protection rating and Ik10 impact test.
This product allows for 6KV lightning rating, which provides effective protection against lightning.
Perfect for high concentration of salt and alkali corrosive atmospheres found at seaside and dessert locations.
The camera conforms to the ONVIF specifications ensuring interoperability between network video products regardless of manufacturer.


Advanced Face Detect/Capture/Recognize
Artificial Intelligence
The Q-See QVP437PZ is a Face and Vehicle Detection, Capture and Recognition camera with Artificial Intelligence shared between the camera and a Q-See AI-NVR for the recognition database storage functions with advanced Intelligent Video Analytics for perimeter area control.  Deep Learning algorithms for human and vehicle tracking distinguish between animals, moving plants and other false positive alarm triggers to allow for confident alarms and other triggers on a property border.  These features can be used to count people and vehicles for crowd density tracking and other advanced functions such as heat mapping and management reporting.  Match with a Q-See AI-NVR for AI data storage and other AI cameras such as ANPR cameras for license plate capture for a complete perimeter area security solution.
Face Recognition Modes
The Q-See QVP437PZ supports Face (and vehicle) Detection, Capture and Recognition with a Q-See AI-NVR.
Face Detection – this is the ability by the camera to detect if a human face has entered a scene.  This can be used to trigger alerts and alarm states and for people counting for statistical analysis.  Typically on detection of a face the video is recorded permanently on the onboard SD memory module in the camera and an AI Network Video Recorder.  Motion detection by non face movement (animals, plants etc) is therefore not recorded.  A much more accurate alert system can be built into the security infrastructure in this way.  Detected faces can be tracked byt the pan/tilt/zoom feature as people move about.  Secondary supporting fixed wide area cameras can feed motion alerts to the PTZ to investigate.  Ideally if these are Q-See Perimeter Border cameras this feature is more effective as false positives don't occur.
Face Capture – this is the ability of the camera to record snapshot images of every face that passes through a video scene.  These can be reviewed at a later date by an operator to identify time stamps where incidents of interest have occurred so that video can be replayed.  This saves time manually reviewing video footage looking for people with Q-See "Smart Search" on all Q-See AI-NVRs
Face Recognition – this is the ability of the system when operating with a Q-See AI-NVR to store a database of face images and match the faces to various lists.  Different lists can have different actions associated.  This capability is usually built into a advanced AI NVRs from Q-See.

Facial Detection for alerts, statistics and marketing
Recognise individuals for statistical analysis, database storage, deep search, list matching, marketing and alerts
Match recognition data to different lists with high accuracy then take action. Set off alarms, receive shapshots, open doors etc
Match faces, report, receive alerts and take actions in real time. No processing delay
Receive alerts for banned customers or gold class customers or anything in between
Simple management of AI-NVR database records. Import, export and update with NVR GUI, Mac, PC or mobile
Maintain detailed information against each facial analytics record for search, statistics and marketing
Advanced A.I "Smart Search" features allow you to rapidly scan for faces across multiple camera recordings and time windows
Face tracking across multiple AI-NVRs in remote locations from multiple camera records and time frames
Statistics engine allows for analysis and investigation of activity levels and detailed reports for marketing teams
Responsive marketing can react to the capture category of a face in real time
Full management features with the QTView app. Perform all functions from your mobile
Search for any record field across all recordings from your NVR, Mobile or PC
Search for an uncategorised face by image across all recordings from your NVR, Mobile or PC
Playback face search matches anytime, anywhere with your mobile
Intelligent Video Analytics
Detect if the stable part of a scene permanently changes with adjustable time sensitivities
Alert on camera blur detection through fogging, deliberate smearing or otherwise.
Alert on motion within a multipoint area to detect movement through a window or an area that is out of bounds etc.
Provides alerts when objects (usually people) cross a line in either one direction, the other or both.
Detect when an object has been added or removed from a scene. Great for lost item recovery.
Area intrusion detection function for alerts when part of a specific scene region is used as an entry or exit point. Ideal for FireDoor alerts etc.
Detect if a camera is tampered through changed field of view, with masking, blocking, physical damage etc
Advanced compression
One concern with the very resolution cameras is their increased network bandwidth and storage requirements. 4K is essentially 400% more dots than standard 1080P High Definition cameras. Therefore bandwidth, processing and storage requirements are likewise 400% larger. To combat this problem the QVP51BS and 54DS cameras support the high compression H.265 CODEC. This reduces bandwidth and storage needs by 50% when compared to H.264.

Advanced image improvement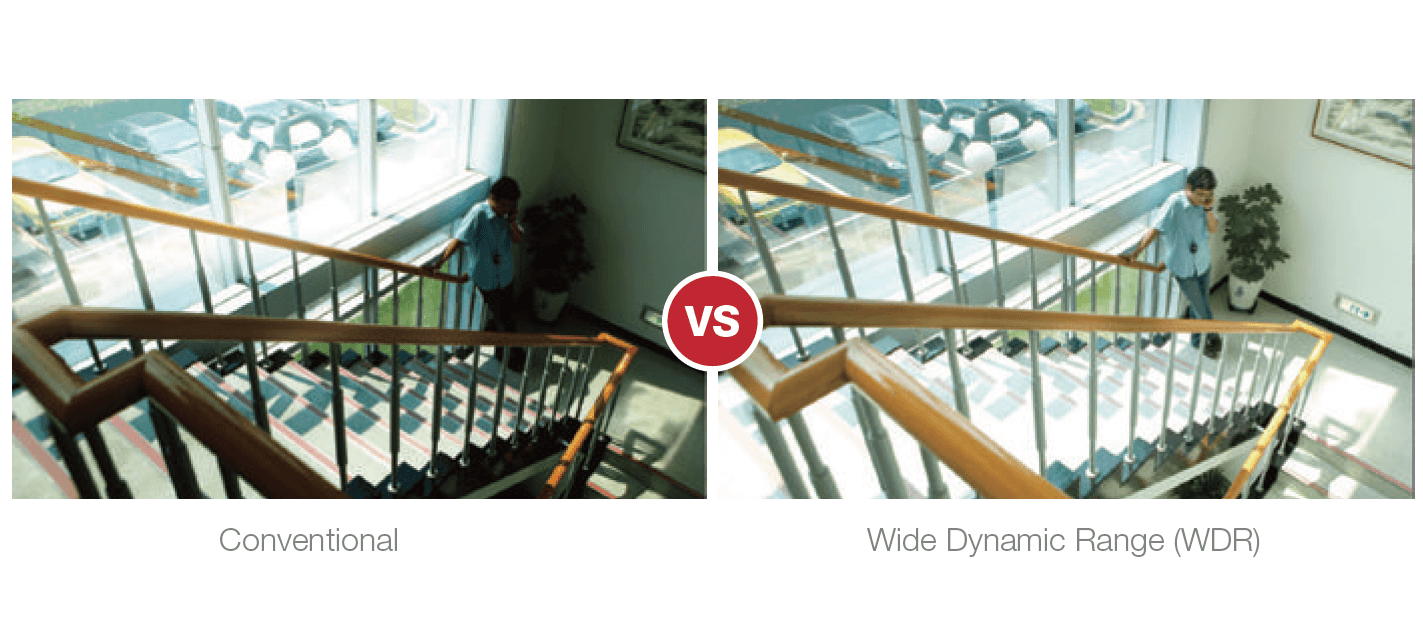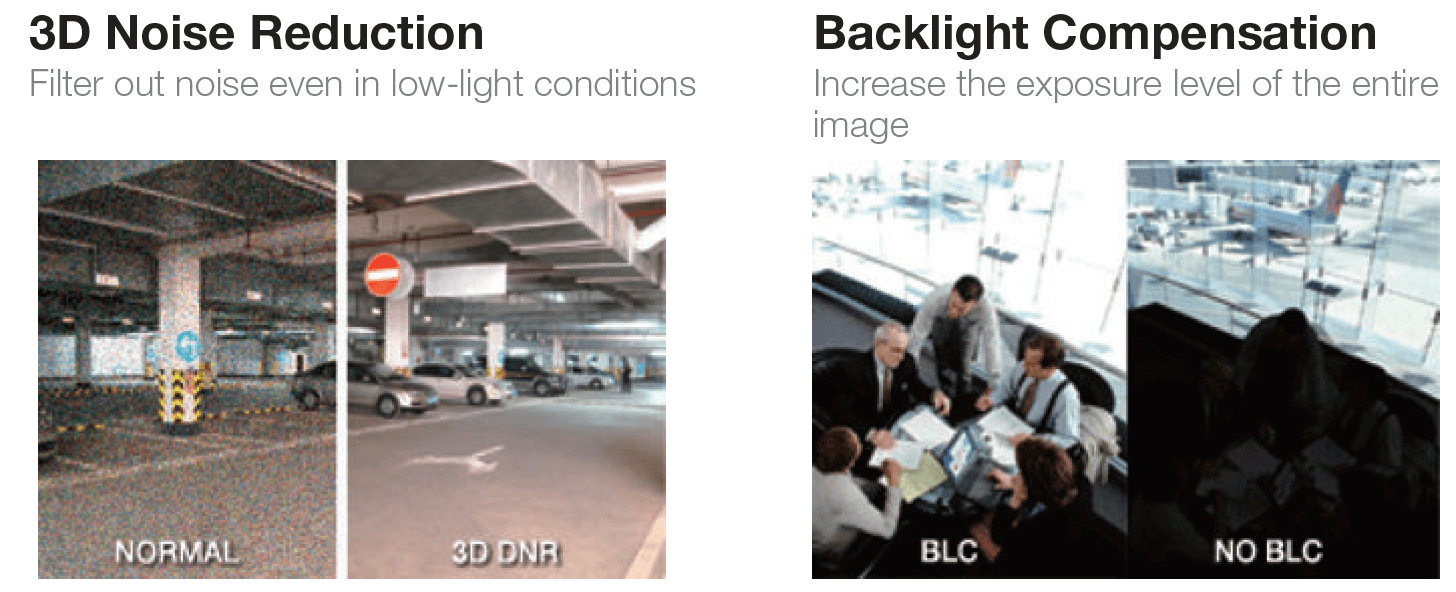 Smart apps and software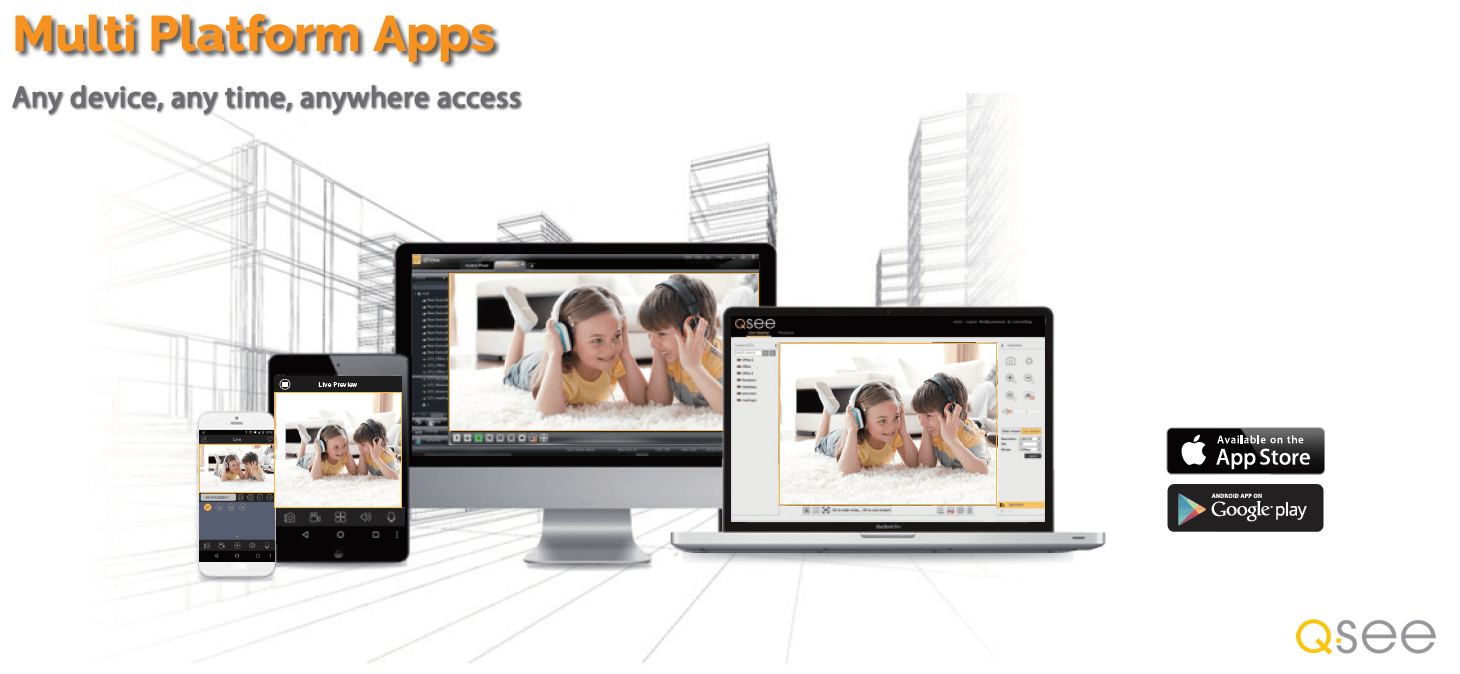 Match with the next generation Network Video Recorders with built in PoE ports for advanced video smart analysis, remote alerts, storage and plug and play setup.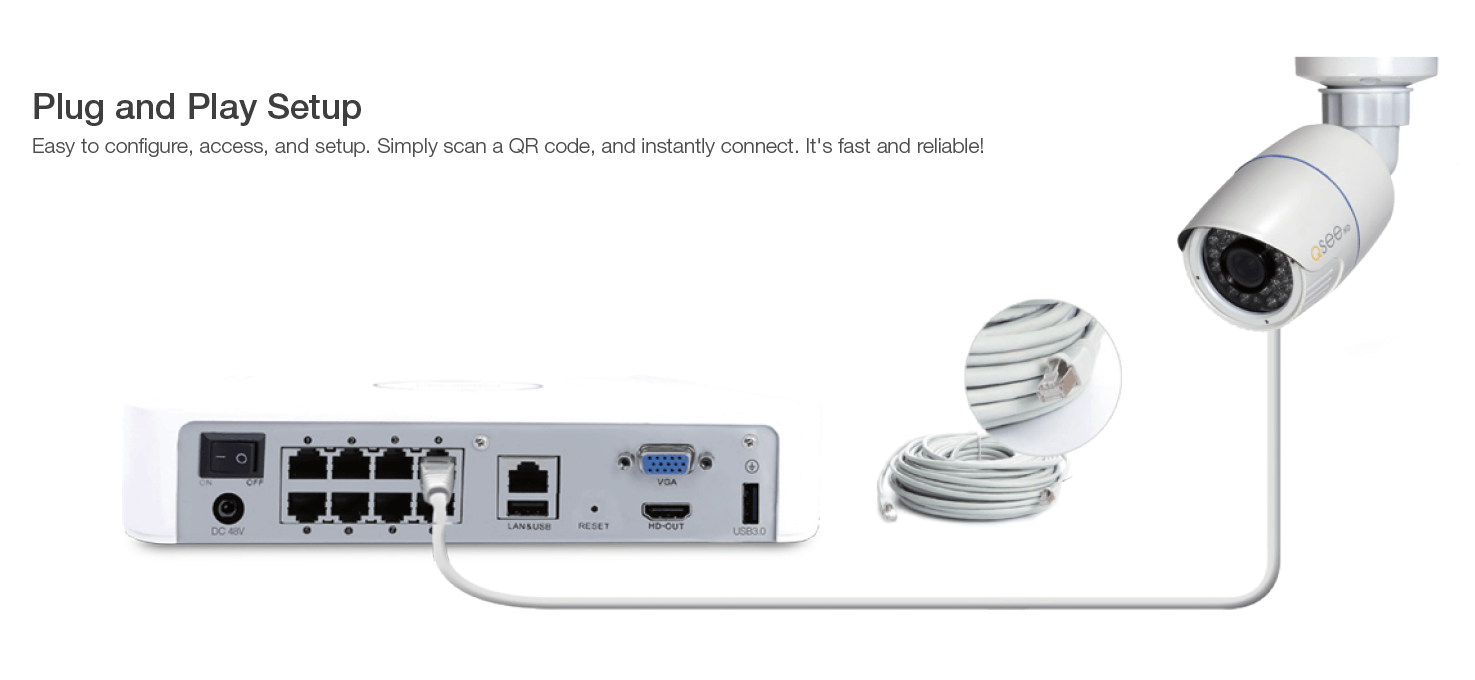 Specifications
| | |
| --- | --- |
| Model | QVP437PZ |
| Camera Module | |
| Image Sensor | 1 / 1.8 "progressive scan CMOS |
| Min. Illumination | Color: 0.005 lux @F1.5, AGC ON B/W: 0.001 lux @F1.5, AGC ON |
| | 0 lux with laser |
| Shutter Time | 50Hz: 1 / 1 s ~ 1 / 25, 000 s; 60Hz: 1 / 1 s ~ 1 / 30, 000 s |
| White Balance | Auto/Manual/ATW(Auto-tracking White Balance)/Indoor/Outdoor/ Fluorescent Lamp/Sodium Lamp |
| Gain | Auto/Manual |
| Day&Night | ICR cut filter |
| Digital Zoom | 16x |
| Privacy Mask | 24 programmable privacy masks |
| Focus Mode | Auto/Manual |
| 3D DNR | Auto/Manual |
| BLC | Yes |
| HLC | Yes |
| WDR | 120dB |
| Optical Defog | Yes |
| EIS | Yes |
| Regional Exposure | Yes |
| Regional Focus | Yes |
| Lens | |
| Focal Length | f=5.6-208mm, 37x optical zoom |
| Zoom Speed | Approx. 4.4s (optical lens, Wide-TELE) |
| Field of View | Horizontal field of view: 59.8° ~ 2.0° (Wide-TELE) Vertical field of view: 33.6° ~ 1.1° (Wide-TELE) Diagonal field of view: 68.6° ~ 2.3° (Wide-TELE) |
| Working Distance | Wide:1.0m~INF Tele: 1.5m~INF |
| Aperture Range | F1.55 (Wide) to F4.5 (TELE) |
| PTZ | |
| Pan Range | 360° endless |
| Pan Speed | Configurable, from 0.1°/s ~ 180°/s; Preset speed: 180°/s |
| Tilt Range | From -20° to 90° (auto-flip) |
| Tilt Speed | Configurable, from 0.1°/s to 150°/s; Preset speed: 150°/s |
| Proportional Zoom | Yes |
| Preset | 360 |
| Cruise | 8 cruises, up to 32 presets for each cruises |
| Trace | 4 traces, record time over 10 minutes for each trace |
| Power-off Memory | Yes |
| Action Mode | Preset/Cruise/Trace/Auto Scan/Random Scan |
| PTZ PositionDisplay | Yes |
| Preset Freezing | Yes |
| Scheduled Task | Preset/Cruise/Trace/Random Scan/Boundary Scanning |
| Smart Features | Intrusion, Line crossing, Region Entrance, Region Exiting, |
| Perimeter Protection | Support alarm triggering by specified target types(human and vehicle) Filtering out mistaken alarm caused by target types, such as leaf, light, animal,flag, etc. |
| Event Detection | Face Capturing, Region Intrusion, Line Crossing, Region Entrance, Region Exiting, Lingering Detection, Crowd Density, Fast Moving Detection, Parking Detection, Object Removal Detection, Unattended Baggage Detection, Audio Exception Detection, Motion Detection, Video Tampering Detection |
| Smart Tracking | Manual Tracking, Auto Tracking (support tracking specified target types such as human and vehicle), Event Tracking |
| Smart Record | ANR (Automatic Network Replenishment), smart search |
| ROI | Eight fixed region for each stream |
| Laser | |
| Laser Distance | 500m |
| Smart IR | Yes |
| Network | |
| Max. Resolution | 2560×1440 |
| Main Stream | 50Hz:25fps(2560×1440,2048×1536,1920×1080,1280×720) |
| | 50fps(2560×1440,2048×1536,1920×1080,1280×720) |
| | 60Hz:30fps(2560×1440,2048×1536,1920×1080,1280×720) |
| | 60fps(2560×1440,2048×1536,1920×1080,1280×720) |
| Sub Stream | 50Hz:25fps(704×576,640×480,352×288) |
| | 60Hz:30fps(704×576,640×480,352×288) |
| Third Stream | 50Hz:25fps(640×480,480×240,352×288) |
| | 60Hz:30fps(640×480,480×240,352×288) |
| SVC | Yes |
| Video Compression | H.265 / H.264 / MJPEG |
| Audio Compression | G.711A/U |
| Protocols | HTTP, HTTPS, IPv4/IPv6, 802.1x, QoS, FTP, SMTP, UPnP, SNMP, DNS, DDNS, NTP, RTSP, RTCP, RTP, TCP/IP, UDP, IGMP, ICMP, DHCP, PPPoE |
| Simultaneous Live View | Up to 6 channels |
| User/Host | Up to 16 users, 3 levels: Administrator, Advanced User and Normal User |
| Security Measures | User authentication (ID and PW), Host authentication (MAC address); HTTPS encryption, IEEE802.1x port-based network access control; IP address filtering |
| System Integration | |
| Alarm Interface | 7CH alarm input; 2CH alarm output |
| Audio Interface | 1CH audio input, 2 to 2.4v[p-p] 1kΩ±10%; 1CH audio output (line out), impedance: 600Ω |
| Network Interface | 1 RJ45 10M/100M Ethernet; (Hi-PoE optional) |
| CVBS | Optional |
| RS 485 | Pelco-D / P protocol, custom protocols available |
| Storage | Built-in memory card slot, support microSD/SDHC/SDXC, up to 256G, ANR |
| API | ONVIF, support TVT SDK and third-party management platform |
| Client | VMS-90000 and the third-party client |
| Web Browser | IE8-11, Chrome 31.0 to 44, Firefox 30.0 to 51 |
| General | |
| Power | AC24V5A (Max.75W, including max.18w for laser and max.12w for heater) Hi-PoE IEEE 802.3bt (Max.60W, including max.18w for laser and max.12w for heater) |
| Working Temperature | Outdoor: -50°C~65°C (-58°F~149°F) |
| Cold-Start Temperature | ≥ -40°C(-40°F) |
| Working Humidity | ≤ 90% |
| Protection Level | IP 67, IK 10, 6000V Lightning Protection, Surge Protection and Voltage Transient Protection |
| Material | ADC12, PC, PC+GF |
| Dimensions | Φ 278mm × 435mm (Φ 1094″ ×17.12″) |
| Weight(net) | Approx. 8.8KG(19.4lb) |