Q-See QVN3332P-4 AI NVR : 32 Channel : 8MP 3840×2160 : Facial 5000 : 256Mbps : 10/100/1000 : 16CH Playback : 16x PoE : 4x SATA : H.265 : 1x HDMI-4K-Out : VGA-Out : 1x USB2.0 : 1x USB 3.0 : 1.5RU : 16x Alarm-In : 4x Alarm-Out : 440x390x70 mm (WxDxH) : Face Detection : Face Recognition : Perimeter People/Car/Bike : People Counting : People Density : Deep Learning
This is the new generation Artificial Intelligence Facial Recognition Network Video Recorder from Q-See International. It is feature packed with the latest technology for Video Surveillance perfectly suited for commercial use with 32 channel, 5000 record 180 pictures/min processing capacity for the facial recognition engine.
Match with Q-See Intelligent Video Analytics, Facial Recognition, Face Detection and Perimeter Alert cameras for the most advanced video surveillance solution possible today.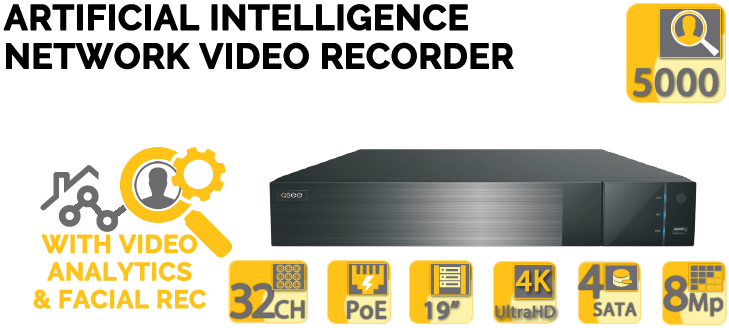 With support for up to 32x 8 Megapixel cameras but more typically up to 16 with the built in 16x PoE ports the Q-See QVN3332P-4 is the ideal AI-NVR for deployment into retail, smaller commercial and industrial locations. As part of the Q-See range this recorder can be controlled by a central Camera Management Server (CMS) for robust, reliable remote video monitoring.
Add Q-See QAPE high power over Ethernet switches for distributed camera deployments. Please see here: https://www.q-see.com.au/product-category/accessories/
Key Features:
Q-See QVN3332P-4
32 Channel 8MP Resolution at 3840×2160 per camera
Support for 8MP / 6MP / 5MP / 4MP / 3MP / 2MP / 1.3MP / 1MP / 960P / 960H / D1 / CIF
Support for Intelligent Video Analytics cameras events – object abandoned/missing, region intrusion, tripwire & video tamper
Support for Facial Recognition and AI with 5000 facial database / remote site sync / 180 pic per min compute capacity / statistics, search & list alarm alert / 32 libraries
16x RJ45 PoE ports for direct camera connection via Cat5e or Cat6 Ethernet cabling
Support for both H.264 and the latest H.265 compression CODECs for high quality video at maximum compression
ONVIF 2.3 conformance
4K output for true ultra high def viewing. HDMI x1 (4Kx2K 1920×1080 & 1280×1024) VGA x1 (1920×1080 & 1280×1024)
16 channel simultaneous playback
256Mbps total network access bandwidth processing capacity
8MP / 5MP / 4MP / 3MP / 1080P / 960P / 720P @ 25 and 30fps
Dual stream recording with manual, timer, motion and sensor based triggering
Dual stream recording technology for local storage with high definition, remote network transmission and remote surveillance with mobile device
16 channel local alarm input and 4 channel output
1x 10/100/1000 RJ45 Ethernet LAN port
TCP / IP, PPPoE, DHCP, DNS, DDNS, UPnP, NTP, SMTP, HTTP, HTTPs, 802.1x support
Up to 4x SATA 3.5″ drives
1x USB 2.0 and 1x USB 3.0 port
Remote control
ATX 292W PSU

≤15

W power consumption + PoE and hard drive power
440 x 390 x 70 mm (W x D x H)
Smart Video Analytics
The QVN3332P-4 support the new range of Video Analytic Cameras from Q-See.
Detect if the stable part of a scene permanently changes with adjustable time sensitivities
Alert on camera blur detection through fogging, deliberate smearing or otherwise.
Alert on motion within a multipoint area to detect movement through a window or an area that is out of bounds etc.
Provides alerts when objects (usually people) cross a line in either one direction, the other or both.
Detect when an object has been added or removed from a scene. Great for lost item recovery.
Area intrusion detection function for alerts when part of a specific scene region is used as an entry or exit point. Ideal for FireDoor alerts etc.
Detect if a camera is tampered through changed field of view, with masking, blocking, physical damage etc
Facial Recognition Ready with A.I.
The QVN3332P-4 supports connectivity with up to 32 AI Facial Detection and Recognition cameras and has the added benefit of supporting FR from standard IP cameras with its built in Artificial Intelligence facial recognition engine.  Store up to 5,000 records and synchronize that data with nine other remote AI-NVRs.  For larger deployments synchronize an unlimited number of records across any number of AI-NVRs with a QTView Video Surveillance server in a central data center.

Facial Detection for alerts, statistics and marketing
Recognise individuals for statistical analysis, database storage, deep search, list matching, marketing and alerts
Match recognition data to different lists with high accuracy then take action. Set off alarms, receive shapshots, open doors etc
Match faces, report, receive alerts and take actions in real time. No processing delay
Receive alerts for banned customers or gold class customers or anything in between
Simple management of AI-NVR database records. Import, export and update with NVR GUI, Mac, PC or mobile
Maintain detailed information against each facial analytics record for search, statistics and marketing
Advanced A.I "Smart Search" features allow you to rapidly scan for faces across multiple camera recordings and time windows
Face tracking across multiple AI-NVRs in remote locations from multiple camera records and time frames
Statistics engine allows for analysis and investigation of activity levels and detailed reports for marketing teams
Responsive marketing can react to the capture category of a face in real time
Full management features with the QTView app. Perform all functions from your mobile
Search for any record field across all recordings from your NVR, Mobile or PC
Search for an uncategorised face by image across all recordings from your NVR, Mobile or PC
Playback face search matches anytime, anywhere with your mobile
H.265 Compression
The QVN3332P-4 support up to 4 SATA storage drives up to 10TB capacity which, when combined with the newest H.265 compression codec, ensures this unit is more than able to record and store the highest quality video feeds from 2 to 8MP cameras. Backup can be added to the standard USB 3.0 port.
The H.265 new generation video codec requires half the storage of the older H.264 compression.
HDMI-4K 8MP Ultra High Definition Input and Output
The QVN3332P-4 NVR supports up to 256Mbps of video stream aggregate bandwidth for camera streams in full 25fps 8MP 3840×2160 resolution. This input can be fully displayed on any UHD 4K display, TV or monitor.
Output is via 1 HDMI-4Kx2K port and a standard VGA port. These can be used in a variety of ways to distribute the displays in various modes across multiple display devices. HDMI extenders and splitters can be used.
Q-See's QT View for IPHONE, IPAD and ANDROID SMARTPHONES puts the power of peace-of-mind literally at your fingertips. Designed to work with our QT-series security DVR and NVRs, QT-View allows you to check in on your property, business or loved ones anywhere, at any time. Receive instant e-mail alerts and see what's going on with the swipe of a finger.
View live feeds from up to four cameras simultaneously. QT View takes full advantage of touch-screen technology to allow you to add or change video feeds, play back video or even control a pan-tilt-zoom camera . You can even take still images and save them on your phone or send them as e-mail attachments.
Specifications
| | | |
| --- | --- | --- |
| Model | QVN3332P-4 | |
| System | OS | Embedded Linux |
| Video | Network Input | 32 CH IPC input |
| | Incoming Bandwidth | 256Mbps |
| | Outgoing Bandwidth | 256Mbps |
| | Network Input Resolution | 8MP / 6MP / 5MP / 4MP / 3MP / 1080P / 1280 × 1024 / 960P /720P / 960H / D1 /CIF |
| | Output | HDMI × 1 : 3840×2160@60fps/3840×2160@30fps/ 1920×1080/1280×1024/1024×768 | VGA × 1 : 1920×1080/1280×1024/1024×768 |
| | Compression | Standard H.265/H.264 |
| Audio | Network Input | 32 CH IPC audio input |
| | 2-way Audio | RCA × 1 |
| | Local Output | RCA × 1 |
| | Compression | G.711(U/A) |
| Record | Record Stream | Dual stream recording |
| | Resolution | 8MP / 6MP / 5MP / 4MP / 3MP / 1080P / 1280 × 1024 / 960P /720P / 960H / D1 /CIF |
| | Frame Rate | NTSC: 30fps; PAL:25fps |
| | Mode | Manual, timer, motion, sensor, smart events |
| Decoding Capability | Live View/ Playback | 1CH 8MP/4CH 5MP/9CH 720P/16CH 720P |
| Playback | Simultaneous Playback | Max 16 CH |
| | Search | Time slice / time / event / tag search |
| | Smart Search | Highlighted color to display the camera record in a certain period of time, different colors refers to different record events |
| | Function | Play, pause, FF, FB, digital zoom, etc. |
| Alarm | Mode | Manual, sensor, motion, exception, smart events |
| | Input | 16 CH local alarm input; supports IPC alarm input |
| | Output | 4 CH |
| | Triggering | Record, snapshot, buzzer, preset, e-mail, etc. |
| Face | Channel | 32 CH |
| | Face Picture Database | 32 libraries | 5000m Face Pictures |
| | Computing Capability | 180 pictures / minute |
| | Face Picture Search | Search by picture is supported |
| | Database Management | Add, modify, delete and search face pictures |
| | Face Picture Adding | Add face pictures through APP, WEB and external import |
| | External face picture enrollment | Resolution:128 x 128 ~ 1920 x 1080 Size:≤ 70KB | Format : jpg&jpeg |
| | Face Picture Comparison | Supports allow list and block list alarm |
| | Face Track | Yes |
| | Map of Face Track | Reolution:2560 x 1920 Size:≤ 512KB | Format : jpg&jpeg |
| | Statistic Graph of Face Information | Bar graph |
| | Statistic Mode of Face Information | Statistics by day, week, month, quarter as well as customized time period |
| PoE | PoE Port | RJ45 × 16 |
| | Standard | IEEE802.3af |
| | Output Power | ≤ 150W |
| Network | Interface | RJ45 10 / 100 / 1000 Mbps × 1 |
| | Protocol | TCP / IP, PPPoE, DHCP, DNS, DDNS, UPnP, NTP, SMTP, HTTP, HTTPs, 802.1x |
| Mobile Device | OS | iOS, Andriod |
| Storage | HDD Interface | SATA × 4, max 8T per HDD |
| Backup | Local Backup | U disk, USB mobile HDD |
| | Network Backup | Yes |
| Port | RS 485 | Yes (full-duplex), connect to PTZ or keyboard |
| | USB | USB 2.0 × 1 , USB 3.0 × 1 |
| | Remote Controller | Optional |
| | Power Supply | ATX 292W |
| Others | Consumption | ≤ 15W ( without HDD and PoE power supply ) |
| | Dimensions (mm) | 440 × 390 × 70 ( W × D × H ) |
| | Working Environment | -10 ~ 50 ℃,10% ~ 90% humidity |